To celebrate the beginning of fall, I decided to talk about the most popular fall decoration- the pumpkin. Here's some non-traditional ways to decorate them.
I made this for work a year ago, when we all decided to have a pumpkin decorating contest.  I put a lot of work into this, hand painting four real pumpkins, gluing on body parts to make it 3-D, and a dowel rod hammered thru the middle of them all into the base was done by my husband.  So far this picture has earned me 143 pins on Pinterest and I'm so happy people admire my piece of art. This brings us to the topic I want to talk about, decorating pumpkins in ways other than carving them.
Now don't get me wrong, my children are 13 and 19 and we still carve at lease two pumpkins per year just to get the seeds out (I make killer roasted pumpkin seeds, I'll leave the recipe at the end for you.)  However, there are so many ways to decorate a pumpkin by means other than cutting into them.  Here are some ideas I thought we both beautiful and easy for anyone to do.
Painting Pumkins: Halloween pumpkin topiary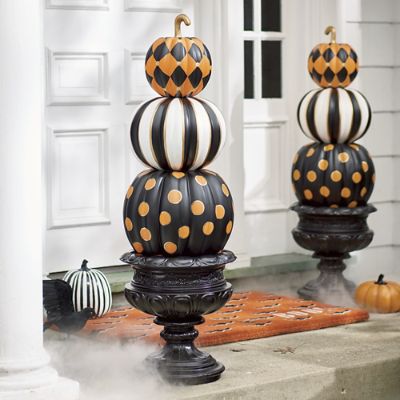 Emoji Pumpkins by Cutefetti
Glue Spiders on it
The advantage to decorating pumpkins like this, is that they last longer than if you were to cut into them. The one thing I miss with these, is the ambiance and smells you get from a candle being inside them on a dark, cool, fall night. But hey, it's fun to mix things up.  Hope you got some new ideas and Happy Fall Y'all!
As I promised…..
Roasted Pumpkin Seeds Recipe
First start by getting out all the pumpkin seeds from your pumpkins, wash them well and get out any bits of flesh from the inside of the pumpkin.
Take all the seeds and put them in a container and fill the container with water.  Then add salt to make a brine, I don't add too much salt, but enough that I know it's like salt water. Let this soak overnight.
Set your oven to 225 degrees, drain the water off the seeds and put on a cookie sheet, pat them with a paper towel to dry them off a bit.  The first step of this process is to dry out the seeds.  It takes a couple hours at this low temperature to remove any moisture.  Stir them around once in a while.
Once they are sufficiently dry, put a couple pats of real butter on the seeds and stir it around to cover the seeds with melted butter, salt them as desired. Turn the heat of the oven up to 35o degrees, watch carefully stirring often until the seeds are golden brown and testing the crispness occasionally, remove when done to your liking.
These seeds are so crispy you can eat shell and all, Bon Appétit!